Web Design for Printing Service
As a top-tier print shop in North Hollywood, Graphic Visions needed a website that showed off the high-quality printing work they do. This included beautiful pictures and videos embedded on the pages. The combination of beautiful content on an optimized platform makes for a stunning webpage. Working with the team at Graphic Visions to design their website was a great experience. Our front-end programmers collaborated with the client at every step of the process. We wanted to create a website that had a great look and feel, without sacrificing performance.
Using a Video Homepage Hero
Usually, homepage heroes are a single, prominent image on the homepage. Often, the hero will rotate between multiple images to highlight different products and services.
Graphics Visions went above and beyond when they decided to use video instead of images for their homepage hero. So, when you land on the site, you see a crisp, high-definition video. That video beautifully showcases Graphic Visions' digital and traditional printers, as well as the custom-made packaging they produce for clients.
Not only are the visuals beautiful, but they are functional. The captivating display grabs attention and encourages users to stick around to explore the rest of the site. We think it was a great choice that shows the power of video in web design. We highly recommend you check it out here.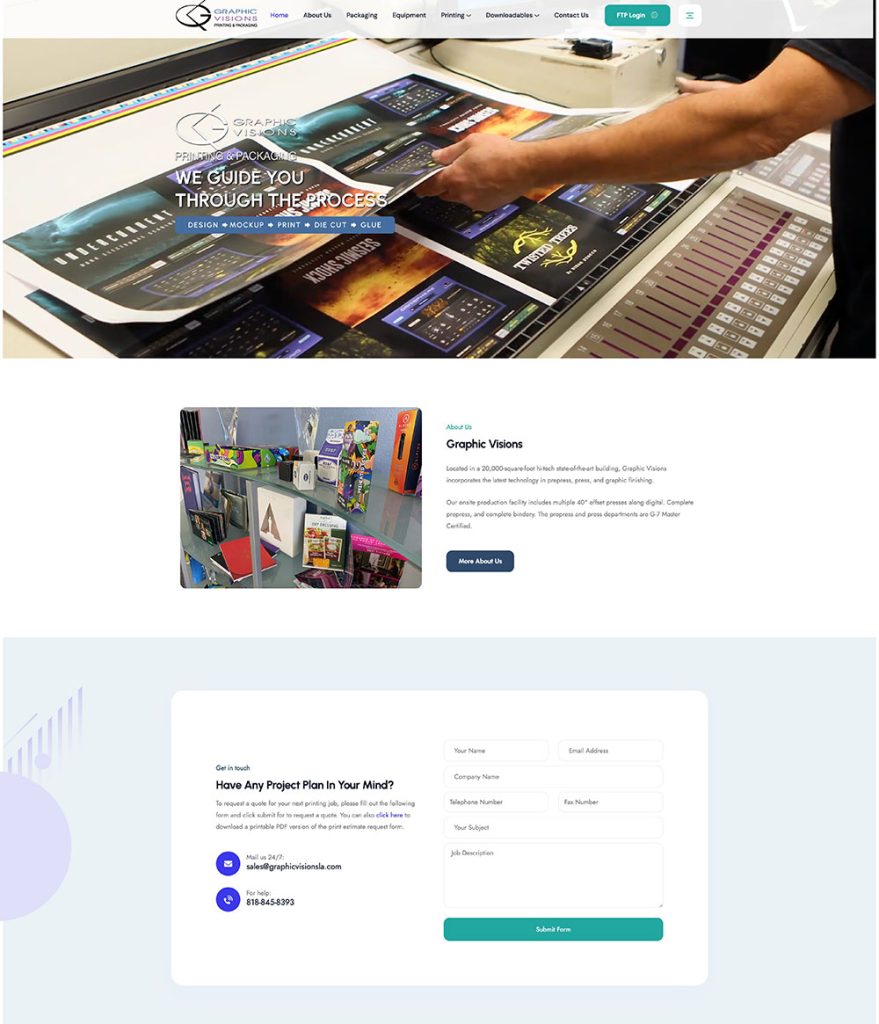 Using WordPress for a Print Shop Website
Knowing that Graphic Visions wanted to feature HD video, we had to be especially careful in recommending a platform to use for the site. We needed something flexible enough to grow and change in the future, but fast enough to meet the technical demands.
Ultimately, we recommended WordPress. Using this system, our programmers could customize the look and layout, while getting the performance they needed. A great balance between cost and functionality. We were able to easily move from a generic template to a unique site designed specifically for their print shop.
WordPress also helped us launch this whole website with a mobile-friendly design. Given how many people browse the web on handheld devices, this is an important consideration for any website. While there are many approaches available to achieve this, we felt that WordPress checked all the boxes for this project in particular.
Final Thoughts
With all that said, Congratulations Graphic Visions on your new site! We hope everyone reading will check it out here if you haven't already. And, if you're reading this and thinking about getting a new or updated website for your print shop—or for any type of business—please let us know and we'll be happy to help.